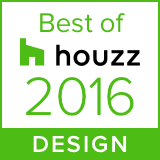 We are honored to have been selected for a Best of Houzz 2016 Award. The Best of Houzz is awarded annually in three categories: Design, Customer Service and Photography. Janine Dowling Design was chosen by the more than 35 million monthly unique users that comprise the Houzz community from among more than one million active home building, remodeling and design industry professionals. Thank you to all our clients and visitors for helping us win this prestigious award, we couldn't have done it without you!
See more of Janine Dowling Design on Houzz
Janine Dowling Design, Inc.
About Our Design Agency
Interior Design Rendering Services
They may seem like tiny details, but shower niches play a role in how well a modern shower functions. They prevent a jumble of bottles from taking up residence on the shower floor or cluttering up a windowsill or shower bench, instead keeping products neat and within easy reach. And because clear glass surrounds and open showers are so popular in bathrooms today, the niche has become a design opportunity. Houzz asked four designers for the nitty gritty on five-star shower niches and tips to consider during your next shower update.
Read the full article on Houzz
Janine Dowling Interior Design
About Our Interior Design Agency
Interior Design Consultant Services